Ballistic Protection Products
Riot Control Equipment
Our range of Riot Control Equipment is manufactured for special police forces and consists of the Shield, Visor and Batons. These are designed to protect against mechanical impacts, stone pelting, fragment impacts, chemicals and other liquids.
Police Baton:
25mm daimeter with 4mm thick wall in tailored lengths.
M.O.C – Polycarbonate.
Weight – Feather light (350 grams approximately)
An Anti-skid and shock-absorbent handle grip.
Soft feel handle grip & cap.
Practically unbreakable.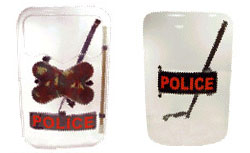 Specifications for Shields:
Base material: Engineering grade of Polycarbonate.
Dimensions: 610 x 910 mm.
Thickness: 2.5, 3, 4 & 6mm.
Feather light weight: 2.5mm thick shield with all fitment accessories weighs < 3 Kg.
Made in ergonomic shapes, is the best engineered in its category.
Good optical characteristics: Scratch safe compartment at view level, offering =85% transparency.
High Impact Resistance: Good mechanical characteristics tested against anti-riot attacks.
Good thermo-physical features: The shield shows good properties under a very wide range of temperatures (-300ºC to +55ºC ).
Good weather resistancy: UV Stabilized.
Built-in soft-cushion padding provides reduction in mechanical impact.
LH / RH Module: Flexibility to use by user as per his convenience.
Arm band provides a dynamic comfort balance in riot-control.
Cushioned handle of alluminium encased in cushioned leather.
Label plate: 'POLICE' with night glow feature.
Available in various designs / sizes.
Other optional features can also be build in, such as: – Strap holding for a baton carrier, fixed on the inner side. – Utility carry bag at lower bottom can accomodate the grenades, battery & other items required during riot control. – The fabric carry bag for scratchfree handling of the shield
Visors:
Shatter proof, high impact resistant, ergonomic shape, light weight.
MOC – Transparent polycarbonate, UV coated surface for longer life.
Extra scratch proofing possible on request.
Excellent protection against projectiles encountered in riot situation.
Riot control Visors in 3, 4 & 6mm.
Ballistic Visors in PC laminates 12mm, 16mm & 22 mm (Tailored).
Ratchet for 2/3 position stay (Optional).