BLACKHAWK # BH33906
X-1 R.A.P.T.O.R. Pack with 100 Oz Hydration System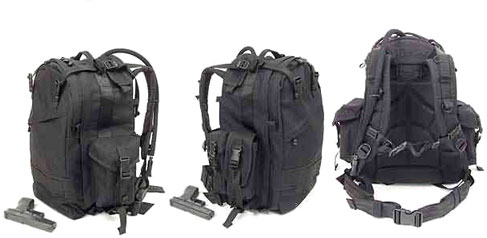 The BlackHawk X-1 R.A.P.T.O.R. Ranger Assault Pack, Tactical Operations Ruck is designed to specifications of US Special-Ops groups to take use and abuse in combat operations. Features Free Fall and static line jump capability with its built in harness attachment system. Main compartment opens fully. On the exterior right side is a large "utility pouch"; on the left a combo Pop-Flare Pouch/Radio Pouch. Shoulder straps and waist belt are padded with 1/2" closed cell foam and have an additional fully adjustable extreme load carry suspension system. Drain holes are provided for each compartment for increased efficiency during Maritime operations. IVS - Innercooler Venting System™ Compression molded foam intercooler back panel, revitalizes and cools and enhances pack support and performance.
X-1 RAPTOR includes a HydraStorm® Hydration 100 oz System
X-1 R.A.P.T.O.R Features:
100 oz HydraStorm™ Hydration System with Insulated Tube Cover and Delta Bite Valve.
IVS -Innercooler Venting System™ Back panel.
Built in Jump Harness with Heavy Duty parachute webbing.
Top Grab Handle design
Built in Drop Line Pouch and Routing System.
Fully Openable Main Compartment.
Silent Zipper Pulls.
Upgrade Heavy Duty # 10 YKK Zippers.
BTS attachment webbing on outside of pack for attaching MOLLE and any BHI modular gear pouches.
Heavy Duty 1000 denier Nytaneon®.
All seams Quad-stitched and Trim Taped Edges.
Patented! # 6,085,947.
AVERAGE DIMENSIONS:
Overall: 20" H x 13.5" W x 6.75" D , Plus Pouches.
Total volume 2500 in3